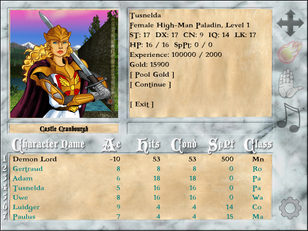 Silversword is a game for the iOS that is heavily based on the Bard's Tale series. Its website is here: http://www.silversword-rpg.com
Welcome to the world of Silversword!
You miss the flavour of old style CRPGs on your mobile device? Silversword steps in the footprints of Bards Tale and Wizardry. Deep dungeons, horrid monsters and challenging puzzles await.
Main Features: 
English and German language available
7 races to choose from, each with its own special abilities
12 classes, each with its own skills, virtues and flaws
5 different magic runes to augment and enhance your items
over 120 spells, songs and prayers
nearly 70 different maps with different styles (dungeon, overland, swamp, city etc.)
guilds, shops, taverns, training halls, temples and many more interesting places to be
integrated automap + quest log
day / night cycle with different effects on your magic and the surroundings
countless hours of interesting gameplay
Game Center support with interesting and challenging achievements
universal app, no need to push the "2x" button on your iPad 
Expansion "Rise Of The Dragons" available through In-App-Purchase.
The game is still being enhanced and expanded, the current version is 2.4.4.
The Facebook page is http://www.facebook.com/pages/Silversword/153263391396680